Powder Packaging Solution with Complete Filling Sealing Lines
The powder packaging solution with complete filling sealing line is suitable for all kinds of powder packaging and bottle capping. It is perfect for penicillin powder filling, borax powder filling, collagen filling, and cosmetics powder filling. The filling line requires an auger scale to complete the process.
Parameter
Measurement: auger weigher
Filling weight: 10 - 500g
Filling accuracy: ≤100g, ±2%; 100 - 500g, ±1%; ≥500g, ±0.5%
Filling speed: 15 - 60 times/min
Power supply: Three-phase 380V 50-60Hz
Machine power: 1.6KW
Machine weight: 320kg
Overall dimension: 2400×970×2030mm
Hopper volume: 15L (plus size: 65L)
Features
The powder filling and bottle capping can be completed by one machine.
Servo motor will push the screw and the filling volume can be set on the touch screen.
The machine can change different screws so as to fill different materials.
The machine can change different capping model to cater to different bottle caps.
There are 6 checking points throughout the whole machine. When processing, the screen will display the working status to realize intelligent operation.
Cleaning the filling line through the side of the hopper is convenient.
There is an automatic feeding system in the filling line.
Component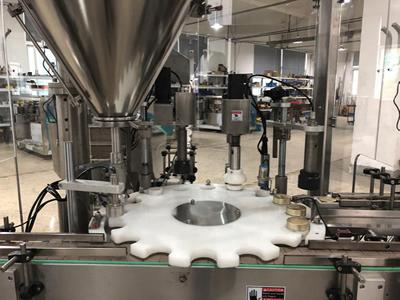 Powder filling capping machine
The machine uses an advanced screw to measure the volume. It can be used for single screw filling or double screw filling according to customer's production requirements.
Induction cap sealing machine
The machine uses a constant-temperature aluminum sealing knife to ant-sticking and keep a stable temperature. By using this knife, the sealing line will not break or begin smoking. It also prevents the pollution of the filling material.