Piston Filling Machine for Liquid Packaging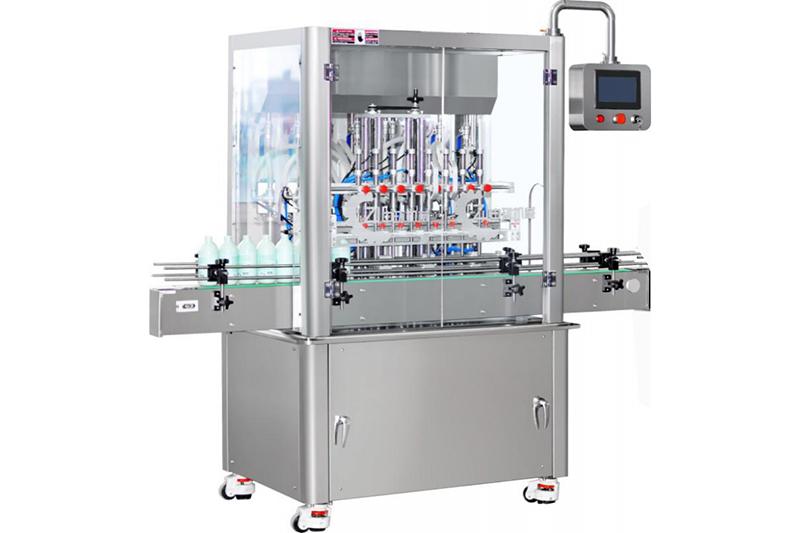 Application:
The piston filling machine for liquid packaging is used for quantitative filling of a variety of liquids in medical and pharmaceutical, beverage, cosmetic, and light industrial industries. The piston fill consists of the engine, conveyor, liquid storage tank, and control system, ensuring a simple operation and highly efficient performance.
Details:
All containers will be automatically fed through the conveyor unit.
The filling nozzle will move up and down to prevent any foaming during the filling process.
The piston filling machine will not begin any filling processes if the bottle is not ready. Once all stations are ready, as determined by a photoelectric system, the 8 injection nozzles will then simultaneously fill.
Final products:
Parameter:
| | | | |
| --- | --- | --- | --- |
| Productivity | 50-60pcs/min | Filling accuracy | <±1% |
| Voltage | 3P 380V/220V (Optional)50-60Hz | Power | 2kW |
| Air pressure | 0.5-0.6Mpa | | |
| Filling range | 20-220ml | 50-520ml | 100-1020ml |
Features:
The piston filling machine for liquid packaging is servo motor controlled, in order to ensure the filling process is faster and more precise.
There are a variety of methods to ensure the machine is safe to use: filling will stop if there are not enough bottles or a bottle becomes blocked, and automatic shutdown when the filling nozzle is not inserted into the bottle.
The piston filling machine for liquid packaging is equipped with a drip resistant filling and lifting system in order to ensure a highly accurate performance. This equipment also has a counting function.
You can complete equipment debugging or replace the filling type with a simple setting change on the screen thanks to an easy man to machine interface and PLC system.
After the filling amount is adjusted, each tank can be repeatedly adjusted to ensure a filling accuracy and consistency within different parameters.