Powder Filling Line with Capping Machine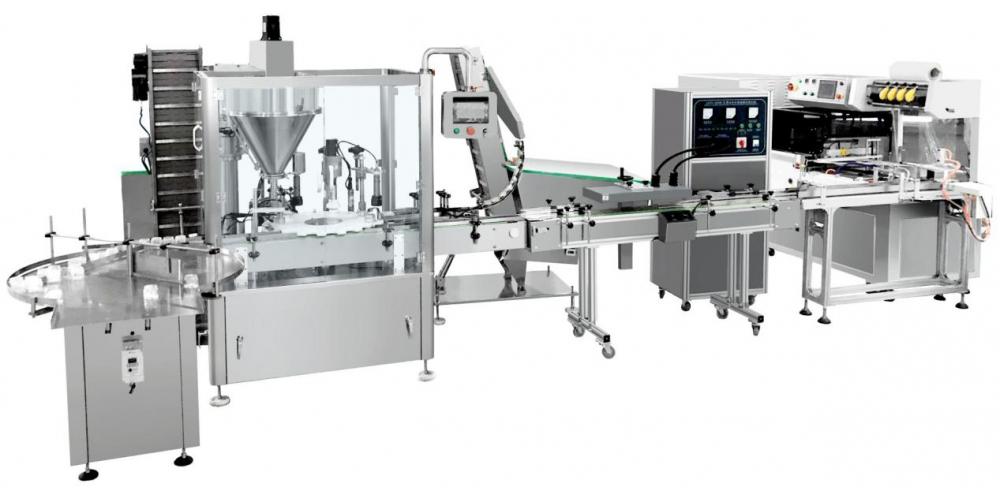 Application:
The powder filling line with capping machine is suitable for filling and capping various kinds of powders, such as penicillin powder, bingpeng powder, collagen powder, cosmetics powder and so on. Our filler and capper can be widely used for food packaging, medical and pharmaceutical packaging and cosmetics packaging. This filling machine can be used individually, but also can be matched with a washing machine and drying machine to form complete packaging lines.
Details:
Final products:
Parameter:
Capacity: 30-40pcs/min
Dose size: 10-50g
Dosing errors: ≤±1%(depending on the specification of products)
Capping errors: ≤2%
Power supply: 220V 50Hz
Total power: 1.2Kw
Dimension: length ×width ×height=3000×1300 ×1800
Weight: 500Kg
Features:
Powder filling line with capping machine is designed with a touch screen control system for operating directly and conveniently, weighing accurately.
The filling machine is equipped with variable frequency control system, the operating speed can be changed adjustable, and it also has automatic counting function.
The filler is designed with the latest sensor technology for the photoelectric sensor and proximity sensor, it will stop filling when there is no bottle, and it will stop and alarm when there is a stuck bottle or if there are no bottles loaded.
Our filling machine feeds the bottle using a single-track, and the machine is equipped with an automatic locating and capping device. This machine can be used for all kinds of bottles.
The filling machine is equipped with the auger filling system, and we can deliver a single-auger filling system or double-auger filling system depending on your requirements.