Can Filling Machine with Sealer, Beverage Packaging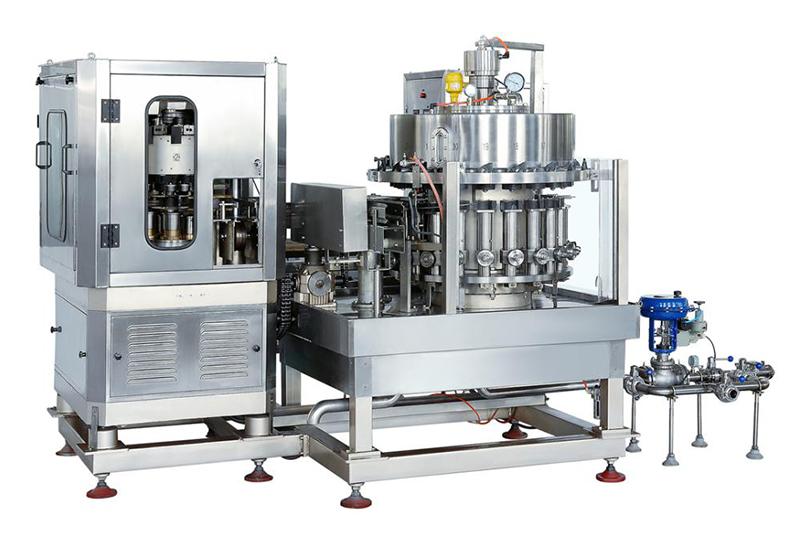 Application:
The can filling machine with a sealer for beverage packaging uses a single chamber isobaric valve to fill liquids so as to prevent any bubble formation during the filling process. It is widely used to fill and cap beer and other carbonated drinks.
Details:
Final products:
Parameter:
1. Filling speed: 300CPM (330ml/can) 240CPM (500ml/can)
2. Filling materials: carbonated drinks/beer
3. Filling temperature: 0℃~5℃
4. Packing specification: two piece aluminum can 211/211 202/209
5. Filling volume: 250 ml ~ 500ml
6. Bottle size: diameter: 66mm-90mm height:85~195mm
7. Power supply: three-phase five wire system
8. Voltage: 380V±5%, 50HZ/24V DC
9. Dimension :( length*width*height): 2700mm*2200mm*2100
10. Total weight: 6.2T
Features:
This filling machine is made of carbon steel, and the isobaric valve, material cylinder and other parts contacted with materials are both made of stainless steel. The can seaming roll is also made of a high strength material that is corrosion resistant and easy to clean.
When sealing, the machine uses a double-seam method controlled using frequency control.
The material cylinder level can be controlled automatically, which can also be automatically cleaned and disinfected. The filling speed is continuously adjustable.
The can filling machine will fill steadily, with a high flow speed, high accuracy, and anti-drip system.